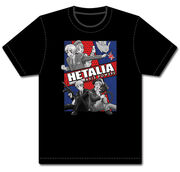 Currently, 9 T-Shirts have been released by Great Eastern, with a 10th planned for late June. No solid release dates are known for the earlier designs.
Retail values range from $15.99 to $19.99 depending on design and size.
Item Details
Edit
Each design comes in only men's or women's sizes, but all shirts range from size S to XXL.
For the most part, each design consists of anime art with most colours removed, and additional backgrounds and effects added to the image.
User Photos
Edit
External Links
Edit