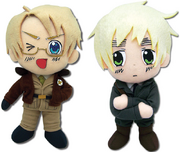 A line of plushies is slowly being released in North America by Great Eastern Entertainment. They seem to be sticking to small sized plush for now, releasing one or two characters at a time with no sets or series.
Due to how they're supplied, actual retail values are unknown. Prices depend entirely on individual retailers.
Second-hand values don't appear to exist yet.
Item Details
Edit
7.5" Plush
Edit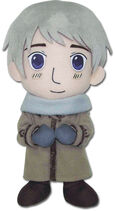 The smaller of Great Eastern's usual style. They copy the appearance of UFO-catcher plush without being prizes. Face details are ironed on. Their prices vary, with the lowest being $8.23 (Amazon) or $11.24 (Rightstuf).
Currently, three plush have been designed in this size. The first two were America and England, and while still available through most retailers, have been recently marked as out of stock by Great Eastern. The third, Russia, has only been shown in a prototype photo. No release date has been announced.
4.5" Plush
Edit
Two plush have been released in this size: England's fairy, and Prussia's bird.
So far, one plush has been released in this size. It's a small window cling (though titled "car hanger"), of England's fairy.
User Photos
Edit
External Links
Edit