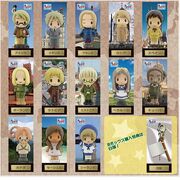 Hetalian Trading Mascots ( Full Title: 俺たち世界のヘタリアン!~ヘタリアントレーディングマスコット~) are a set of charms released by Movic on February 26, 2009. They were part of the Character Collection (カラコレ, karakore) Series and are currently out of print.
They were sold in two full complete boxes of 13+1, both retailing at 6,500円 ($86.67), giving the individual charms a value of 500円 ($6.67) each.
Second-hand, figures tend to average at 1,000円 ($13.33), but can start as low as 200円 ($2.67) or end as high as 3,500円 ($46.67) depending on the character. Full boxes are usually 10,000円 ($133.33) and higher.
Item Details
Edit
The charms themselves are small PVC figures with a clasp at the top and ring at the bottom so they can be put together to make a little chain. Each comes with their own clear plastic display box, with two holes in the lid so they can hang from it. Along with the charms, each box also has an insert showing the character name in front, their flag at the bottom, and as the backdrop, a photograph taken in their country. There are two exceptions, though, as Prussia has a red background with an eagle, and the white flag has a white background with black text. At the bottom of the box, to help with display purposes, is a small indent which allows them to stack together without the lower figure's clasp getting in the way.
Additionally, some figures have a glossy finish, while others are matte. It doesn't appear to be related to which box the figure's from, though there is only one version of each figure.
Box A consists of North Italy, Germany, Japan, China, Hungary, Austria, Prussia, Switzerland, Liechtenstein, Finland, Sweden, Greece and Korea, with Romano as a secret figure. Box B has America, England, France, Russia, Spain, Poland, Latvia, Estonia, Belarus, Cuba, Canada, Seychelles and Sealand, with a white flag as the secret figure.
More recently, a 29th mascot was released as a promo for the Paint it, White! movie. It's of Iceland, and comes with an extra fastener and no box.
User Photos
Edit
External Links
Edit