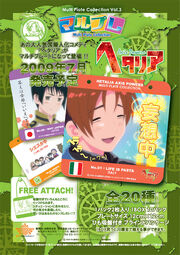 The Multi Plate Collection is a series of plastic door-hanger type items made by Sol International. There have been two sets, both sold in full complete boxes of 20. Though all plates are included in every box, they're randomly sorted into 10 packs of 2.
Item Details
Edit
Each multi plate measures 12x12cm.
Despite the volume names, only two have been made for Hetalia.
Released July 3, 2009, Multi Plate Collection Vol. 3 includes the following:
No.01 : Life is Pasta - Italy
No.02 : Open! - Itary
No.03 : Work is Happy - Italy
No.04 : Renaissance - Chibitalia
No.05 : Hot Spring - Japan
No.06 : Why Japan Why? - Japan
No.07 : Tiredness - Japan
No.08 : ? - Romano

No.09 : Doki Doki Potato - Germany
No.10 : Attention - Germany
No.11 : I Love Hamburger - USA
No.12 : I Am a Hero - USA
No.13 : Cat's Dream - Greece
No.14 : Let's Study - China
No.15 : Do Not Enter - Russia
No.16 : ? - Spain
No.17 : Je T'aime - France
No.18 : Wonderful Fool - Austria
No.19 : Rejection - UK
No.20 : Siesta - Chibitalia
Released December 17, 2009, Multi Plate Collection Vol. 5 includes the following:
No.01 : Maestro - Japan
No.02 : Casanova - France
No.03 : Professional - Germany
No.04 : ?
No.05 : I Am Canada - Canada
No.06 : Manner Up - Japan
No.07 : Mischievous Boy - UK
No.08 : Tea Break - Lithuania&USA
No.09 : Great Smile - Sealand
No.10 : Worrier - Lithuania
No.11 : Be Quiet! - Russia
No.12 : Good Bye - Holy Roman Empire
No.13 : Just a Moment - Chibitalia
No.14 : Bargain! - Switzerland
No.15 : Oresama - Prussia
No.16 : Delicious! - USA
No.17 : Lovery Sister - Liechtenstein
No.18 : Far Memories - Switzerland and Austria
No.19 : Baka Baka - UK
No.20 : Chair of Curse - Russia
User Photos
Edit
External Links
Edit