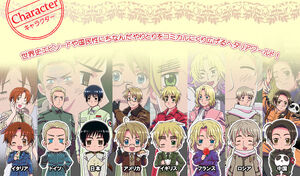 Multiple items were made for the Hetalia in Namco Namja Town (ヘタリアinナムコ・ナンジャタウン) event to go along with the upcoming release of Paint it White. The event, so also the availability of the items, lasted from May 22 to July 11, 2010.
Most were lottery prizes, one known price being 300円 ($4) per ticket, while some came free with other items.
Second-hand values vary depending on the items.
Item Details
Edit
3(?) towels were available starting from May 29.
Can Badges
Edit
Can Badges (缶バッジ) were one of the sets of lottery items. They ran from June 5th and on, as prizes for the Marukaite Chikyuu Garapon. They tend to be about 500円 ($6.67) each when found second-hand.
There are two sets, one of 25 (?) large can badges, and one of 8 mini can badges. Both sets, as with most of the event's items, have become incredibly rare over time.
Deserts, Food, and Stickers
Edit
Not exactly goods themselves, 25 Hetalia themed dishes were available during the event. Each was based on a character, and when purchased, came with a large sticker of the same character.
Available from June 5th and on. Costing 4700円 ($62.67) for adults or 4100円 (54.67) for children, these were a Hetalia-themed version of the "Nanja Passport" which appears to be admission to the event itself.
User Photos
Edit
External Links
Edit