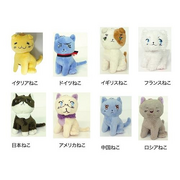 Nekotalia Mascots (ねこたりあマスコット) are a series of plushies made of some Nekotalia characters. They were released on September 1st, 2011.
They're sold in full complete boxes of 8 for 5880円 ($78.40), making them 735円 ($9.80) each. A second, Animate-exclusive set has no retail value.
Second-hand, the regular mascots average at 600円 ($8), while the DVD mascots have been seen to go as high as 3500円 ($46.67) for a set of two.
Item Details
Edit
Each Nekotalia plushie is made in the same sitting position. They are 10cm in height, and have a ball-chain attached to the back of their heads to let them double as a keychain.
The set consists of the cats of Italy, Germany, Japan, America, England, France, Russia and China.
DVD Mascots
Edit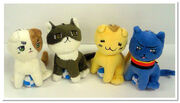 As well as the original plushies, there are versions in the same position but holding a striped ball. Despite the prototypes all having a blue and white ball, the colours appear to vary depending on the character. Apart from the ball, and slightly higher quality, all other details appear to be the same as the main set.
The DVD mascots are obtained in sets of two. The first set includes Italy cat, with a green and white ball, and Germany cat, with a yellow and white ball. Unlike the prototype, Germany cat's ribbon is no longer upside down. After a delay and apology from hetalia.com, these two were released on August 26th, 2011. They come packaged in a box resembling the tomato box from the first episode of the anime, and come with two white plastic mugs featuring light blue anime lineart of the cats, as well.
The second set includes Japan cat, with a red and white ball, and England cat, with a blue and white ball. As this set is mentioned on the Animate listing for volumes 5 to 8 of the World Series DVDs, it can be assumed that they were obtained in a similar method to the DVD OneCoins. It appears as though orders had to be placed before or during November 2011. Released on February 24, 2012, these two come packaged in a tomato box again, with two white plastic mugs featuring orange anime lineart of them.
It's currently unknown whether the series will continue to include an America cat and France cat set, and a Russia cat and China cat set. However, it can be assumed that if this is going to happen, as they're DVD bonuses, a new season of the anime series is on its way as well.
User Photos
Edit
External Links
Edit