A few sets of Notebooks (ノート) have been released for the Hetalia series.
Retail values range from 420円 ($5.60) to 735円 ($9.80) depending on quality and paper size.
Item Details
Edit
Beyond the most obvious variation, different covers, each notebook set seems to have also a few differences in paper size and binding.
For the most part, all act as regular notebooks, have a full-colour cover, and have a small picture on the inside pages.
Mini Notebook Sets
Edit
The first four notebooks, released June 17, 2010, are size B6, and contain 24 pages each. Their retail value is 420円 per set of two.
The first pack is titled German Military Diary (ドイツ軍部日記). The title book has a grey cover, with a design matching the diary Germany owned within the series. The additional book has a dark yellow cover, and features anime art of Italy, Germany and Japan.
The second pack is titled Oresama Diary (俺様日記). The title book's cover has a blue theme, a picture of Prussia and Germany, and child-like writing and pictures in the background. The additional book has a dark blue cover, featuring Prussia, France and Spain.
Mini Ring Notebooks
Edit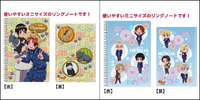 The second set was released April 7, 2011. They are 128x182mm, and have 50 pages each. They retail at 420円 as well.
The first is Nekotalia themed, with an image of Italy and Japan with their own cats as well as Germany's. The back cover is all three Axis cats. On the inside, the pages alternate between Axis cats and Allies cats, pictured along the sides.
The second is Gakuen Hetalia themed, and uses the chibi art from Gakuen Portable. The front cover shows Italy, Germany, Japan and America, while the back cover shows England, France, China and Russia. The inside pages alternate between the same two groups, with the pictures along the bottom.
Collaboration Series
Edit
(main article: Collaboration Series)
An additional three sets of notebooks have been released as part of Hisago's Collaboration Series with Hetalia. These include six A6 File Notebooks, as well as two A5 Notebooks.
User Photos
Edit
Passport Notebooks
External Links
Edit