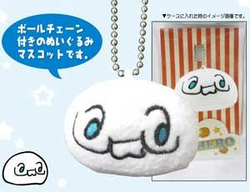 Omochi Mascots (おもちマスコット) are a series of small plush keychains made of some of the mochi characters. The first was released on February 18th, 2010, while eight more were released on November 3rd, 2011. They are all made by Movic.
These straps are sold individually, with a retail value of 682円 ($9.09) each.
Second-hand, they don't appear often enough for a value to be known.
Item Details
Edit
All nine mochi measure about 5 x 6 cm, have a removeable ball chain, and come packaged in a small, clear box with full-colour backing.
The original release was a single mascot of Mochimerica. While the others are all called "Omochi Mascots" in general, this was the only one to be individually named. His exact item name is "Mochimerica Mascot". His backdrop also features a different design than those of the newer set. Apart from these two details and the release dates, however, there are no other known differences.
The eight released in 2011 were of the following characters: Italy, Germany, Japan, England, Russia, Canada, Spain and Liechtenstein. In that order, each is labeled from A to H, to tell item names apart.
User Photos
Edit
External Links
Edit