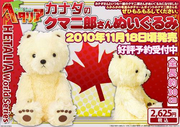 A few stuffed animals (ぬいぐるみ) have been released by Movic for the series.
Retail and second-hand values vary depending on the item.
Item Details
Edit
The two stuffed animals currently made are of pets in the series.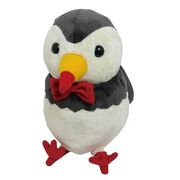 Both plush are rather large compared to usual Hetalia merchandise.
Canada's Kumajiro-san Plush
Edit
Kumajiro was released on November 18, 2010. It has a retail value of 2625円 ($35.00). The plush measures about 30 cm tall, and features a Canadian flag as its tush tag.
Puffin-san Plush
Edit
Puffin was released on July 14, 2011, with a retail value of 2940円 ($39.20). It measures about 28 cm tall.
User Photos
Edit
External Links
Edit